2019 BERMUDA INTERNATIONAL
LIFE & ANNUITY CONFERENCE
Morning Keynote
Civil Politics
James Carville and Mary Matalin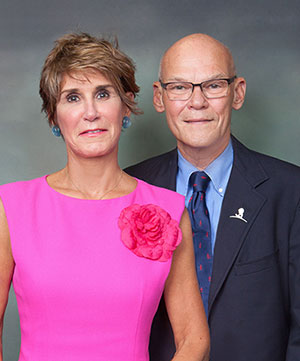 James Carville and Mary Matalin are not only proof that politics makes strange bedfellows, but that opposites do in fact attract. She's a conservative, he's a liberal; she's from the heartland, he's from the Deep South; she speaks English, he does not;
They began officially dating in January of 1991. That following December, in the same week she was named Director of President George Bush's 1992 re-election campaign, he was named chief strategist for the 1992 Clinton presidential campaign. Although they both swear they never planned to see each other during that election year, somehow there were enough chance meetings that they ended up getting married on Thanksgiving Day in 1993.
Since their marriage, Mary has served as an assistant to President George W. Bush and as counselor to Vice President Cheney. James has gone on to manage more political campaigns worldwide than anyone in U.S. history. She was a founding co-host of the TV show Equal Time, and hosted CNN's critically acclaimed TV debate show, Crossfire. He has also hosted Crossfire. She is the author of the national bestseller, Letters to my Daughters. He has written six New York Times best sellers including his latest, We're Still Right, They're Still Wrong.
Individually, each is a champion of their party's convictions and renowned for their extraordinary intelligence and uncanny political insights. Together they wrote one of the nation's best-selling political memoirs, All's Fair: Love, War and Running for President, and collaborated again on their newest memoir: Love and War: Twenty Years, 3 Presidents, Two Daughters and One Louisiana Home. And together they are proof that a liberal and conservative can, in the spirit of bipartisan cooperation, produce two lovely daughters.
Afternoon Keynote
Demographics and Real Interest Rates
Andrea Ferrero
Andrea Ferrero is a Professor of Economics and the Levine Fellow in Economics at Trinity College, University of Oxford. He is a CEPR Research Fellow in the International Macroeconomics and Finance and Monetary Economics groups.
Professor Ferrero holds a BA in Economics from Bocconi University, an MSc in Economics from Universitat Pompeu Fabra, and a Phd in Economics from New York University.
Before joining Oxford in September 2013, Andrea spent seven years in the Research Department at the Federal Reserve Bank of New York, first as an Economist and then as a Senior Economist. He was a visiting scholar at NYU Stern in the Winter/Spring of 2012 and at EIEF Rome in the spring of 2016. He also held visiting teaching positions at NYU, IMT Lucca, IHS Vienna, and the LSE.
He is currently an academic consultant for the Bank of England, and spent research visits at the Bank of Japan and the European Central Bank.
His research interests are in the areas of Monetary Economics and International Macroeconomics. Among other topics, he has worked on policy options in a currency union, the determinants and implications of global imbalances, and the macroeconomic impact of the Fed unconventional policies. His research has appeared in top professional outlets, including the American Economic Review, the Economic Journal, and the Journal of Monetary Economics.
His current research focuses on the determinants of low real interest rates, on the international transmission of credit shocks, and on the interaction between monetary policy and macro-prudential policy.
WELCOME RECEPTION
MONDAY, SEPTEMBER 30, 2019, 5:30 - 7:30 PM
Hamilton Princess Marina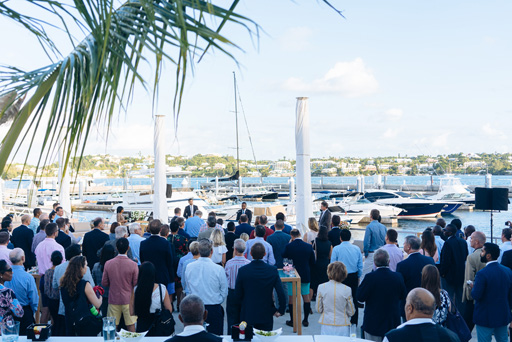 Sponsor: Aon Insurance Managers (Bermuda) Ltd.
Join us for a networking reception at the Hamilton Princess Marina. Enjoy the breath-taking views of Hamilton Harbour at sunset accompanied by the soothing sounds of a local steel pan musician. For guests staying at Fairmont Southampton, enjoy the quick boat shuttle service provided to and from the reception.
Boat Shuttle Times:
Fairmont Southampton Hotel
4:45 pm Boat will depart from Waterlot Dock
7:30 pm Boat will return to Waterlot Dock
Please arrive early for departure times as boat will leave on schedule.
AGENDA
TUESDAY, OCTOBER 1, 2019
Tuesday, October 1, 2019
8:00-9:00am
Breakfast & Conference Registration
Sponsors: RGAX
9:00-10:30am
Civil Politics
The deepening political divide in America and Europe has an impact on government policy, economics and trade, and our communities. James Carville and Mary Matalin, the world-renowned husband and wife team of political strategists, will cover a wide range of political topics in a moderated discussion from opposite sides of the political aisle, including fresh insights on the upcoming presidential election in 2020, improving political dialog, and closing the ideological divide.
Panel: James Carville and Mary Matalin
10:30-11:00am
Networking Break
Sponsor: EY
11:00-12:00pm
The Genomic Revolution
The advancement of genomic science is moving at a pace faster than Moore's Law. Insurance carriers will need a cohesive strategy to deal with the forthcoming impact on their business and policyholders. Genomic products can be used to enhance a policyholder's life and longevity which is a clear benefit for a life carrier. Enhanced longevity may not be a benefit for a health carrier. Moreover, there is the potential for the possession of medical information on an asymmetric basis between the applicant and the insurer which could or will lead to anti-selection. A discussion of genomic products and their potential risks and rewards will be put forth as well as an overview of the regulatory environment.
Speaker: Tom Wamberg
12:00-1:30pm
Lunch
Sponsor: Marsh Bermuda
1:30-2:30pm
Portfolio Optimization: Collaboration Between Portfolio Manager and Actuary
There are a variety of approaches to asset liability matching (ALM) being employed throughout the long-term (Life) industry. This session will explore how portfolio managers work with actuaries to construct and optimize portfolios to support product liabilities. Trade-offs between matching cash flows, key rate duration and overall duration will be examined, as well as yield, duration, default, liquidity and convexity considerations.
Speakers: Christopher N. Lech and Mark Yu, New England Asset Management
2:30-3:30pm
Demographics and Real Interest Rates
Real interest rates have been trending down for more than two decades across many countries, suggesting that their key drivers go beyond just the accommodative monetary policy implemented by central banks in response to the 2008 financial crisis. In this session, Andrea Ferrero will argue that population demographics is one of these factors keeping rates below historical norms, by illustrating the impact of this extraordinary force on real interest rates using a tractable life-cycle model.
Speaker: Andrea Ferrero, University of Oxford
3:30-4:00pm
Networking Break
Sponsor: EY
4:00-5:00pm
US GAAP Long Duration Targeted Improvements
In August 2018, the FASB issued Accounting Standards Update 2018-12, which revises key elements of the measurement models and disclosure requirements for long-duration contracts issued by insurers and reinsurers. It is the biggest change in US GAAP reporting life insurers in the past 40 years, and it is expected to have a large impact on life, annuity and A&H carriers both financially and operationally. In the presentation from PwC, you will hear about the summary of the changes, financial and operational implications, reactions from the industry as well as recommendations on how Bermuda companies should approach implementations.
Speakers: Ailen Okharedia and David Knipe, PwC
5:00-6:00pm
Networking Reception: The Great Sound Lawn
Join us for a networking reception overlooking the extraordinary crystal blue waters of The Great Sound. The reception will be a great opportunity to meet with your peers and expand your contacts throughout Bermuda's long-term insurance and reinsurance sector.
Sponsor: Athene Life Re Ltd.
Wi-Fi and AV Sponsor: PwC
BERMUDA INTERNATIONAL LONG TERM INSURERS AND REINSURERS
Welcome to 2019 Bermuda International Life and Annuity Conference sponsored by Bermuda International Long Term Insurers and Reinsurers.
This is the only industry event uniquely focused on the long-term insurance industry in Bermuda. Apart from the many excellent networking opportunities, the event features leading industry experts and stimulating panel discussions. The conference will provide you with insight on the latest trends and issues facing the industry and your company.
About Us
Bermuda International Long Term Insurers and Reinsurers (BILTIR) was created to serve as a formal association representing the long-term insurers and reinsurers in Bermuda.
The primary focus of BILTIR is to act as an advocate for Bermuda's life and annuity industry for public policy that supports the industry marketplace, including regulatory requirements, other Bermuda Monetary Authority or Bermuda government issues, and tax matters with various jurisdictions. BILTIR strives to provide a consistent and coherent voice for concerns of the long-term (re)insurance sector in Bermuda.